Pool Crack Repair
Choosing the right company to repair your pool is of the utmost importance. Not every pool company has the skill and expertise needed to do the job right. Leak Wizard not only does it right the first time but has the most skill and knowledge in the Tampa Bay area when it comes to providing permanent solutions for structural pool repairs. These structural repairs include cracks that are in the tile line, walls and floors of pools. Some pools that have settled and cracked in half have actually popped up out of the ground.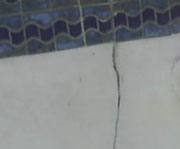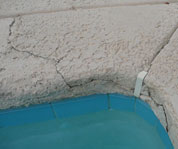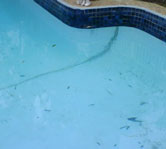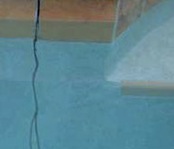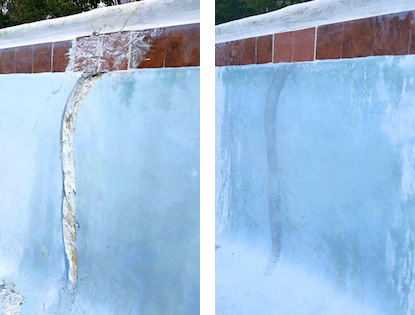 Pressure Grouting
Pressure Grouting is a process of stabilizing the soil under a pool/spa that has settled for one reason or another. We drill through the shell or go under the deck and insert pipes. We then pump 3000 psi expandable grout under the pool/spa to stabilize the soil and raise the pool/spa back into place.
Don't delay in having repairs made.
Allowing some problems to go unchecked for long periods of time can cause the problems to grow into larger, more costly issues down the road.
Swimming pools can develop cracks in the concrete that lies beneath the plaster finish, due to settling, ground shifting or erosion. Simple hairline cracks in the finish may not involve a leak and can, usually, be easily repaired. However, a crack that is structural in nature and is under stress cannot be simply glued in place or plastered over, as the forces involved will continue to pull the crack apart. Such cracks must be stabilized in order to prevent the crack from widening and causing ongoing leak problems.
Over time, many pools in Florida will suffer a crack or some structural issue. Leak Wizard is the solution to this problem.
Our team has the experience and technology to locate and repair any cracks in your pool. Once the crack is located our technicians clean the crack, set injection ports on the crack, pump high strength epoxies under pressure through the ports to penetrate the entire crack and structurally bond the shell of the pool back together. Contact our professional service team today to learn how we can help you. We will then find out more about your specific needs and offer a solution to your problem.