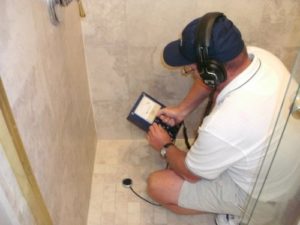 The Leak Wizard offers the most complete plumbing leak detection in the industry. Our team of experienced professionals can isolate, with incredible precision, the location of your leak. Accuracy of our equipment is surprisingly high, with most leaks being detected within 8 inches of their exact location.
On some occasions multiple leaks may be present. Our technicians are trained to use the most sophisticated equipment, with proven techniques, to make every effort to affirm all leaks are found. Experience along with unsurpassed determination is our most important tool in successful leak discovery.
If we don't find your leak, you don't pay!
Water cost is at an all time high. We urge owners to quickly locate and repair leaks to reduce water bills, minimize costly water damage and save gallons of water. Concealed water leaks can cause major damage to your home and furnishings very quickly, do not delay, call immediately once you discover or even suspect a leak.
Let our experience work for you to help minimize damage to your structure and furnishings. Properly identifying and locating leaks is imperative and can save you thousands of dollars.
Our proven techniques are not limited to just single family homes. We also do commercial buildings, multi-family dwellings and other structures with a water supply. we locate domestic slab leaks in non-destructive and minimally evasive manner. all too often, misidentification by inexperienced companies can lead to unnecessary renovations. Please allow yourself to not become the victim; get your leak exposed by professionals specializing in leak detection.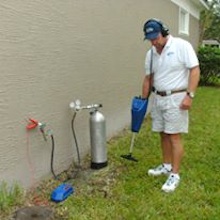 Here Are a Few Signs That May Indicate You Have a Leak:
Unexplainable high water bill
Chronic sewer backup problems
The sound of running water when none is in use
Water meter running when water not in use
Soft, spongy or discolored walls
Musty odors coming from floors, walls or sewers
Cracked and/or damp foundation or slab
Warm areas on concrete floors
Mildew or excessive moisture under carpets
Wet areas in the yard, often with very healthy and greener plant or grass growth