Pool Equipment Repair and/or Replacement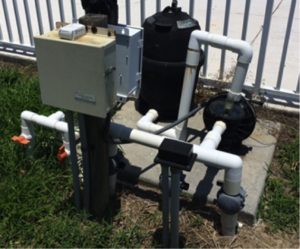 If any part of your swimming pool isn't running right, we can fix it. We can offer estimates for most major repairs over the phone at no charge. More extensive repairs will require a skilled technician on-site to provide an estimate.
Leaking equipment. Pumps, backwash valve leaks, and O-ring'-s needing replacement. Give us a Call!
Our specialty is the Leak Detection and repair of commercial and residential pools
Filter Repair and Replacement
If you are planning on replacing your pool filter, there are different manufacturers, sizes and types from which to choose. We can assist you in properly sizing the pool filter based on the water capacity of your pool, and the existing pool equipment.
Pump Repair or Replacement
A properly working pool pump will keep your pool's water circulating properly. A pool pump that is working correctly should be quiet, and dry. If your pump is leaking water, it could be that the mechanical seal, or seal plate gasket has failed. In some situations, replacing your pool pump could be the best solution.